The sold out concert, Tohoshinki LIVE TOUR 2017 ~Begin Again~ at Tokyo Dome, started at 18:00 and ended 21:24 (JST) [cr: @anywhere4you]. Among the people spotted attending were their families and Tsutsumi-san~
This post includes a compilation of fan accounts and stream translations~
[cr: 将爱MyYunho允浩站]
Fanaccounts:
Fanaccount by Translated by @loveyunhosama:
During ending talk
Yunho "they showed before when I cried. That was embarrassing, but I think it was the happiest moment. Up till that day, I rarely cried. Before, even when we received awards. But, since becoming 2, our 1st tour (1st Tokyo dome live in TONE tour), and WITH's last day (Tokyo dome) I cried. Its because I thought I was HAPPY" [cr: @coscosy]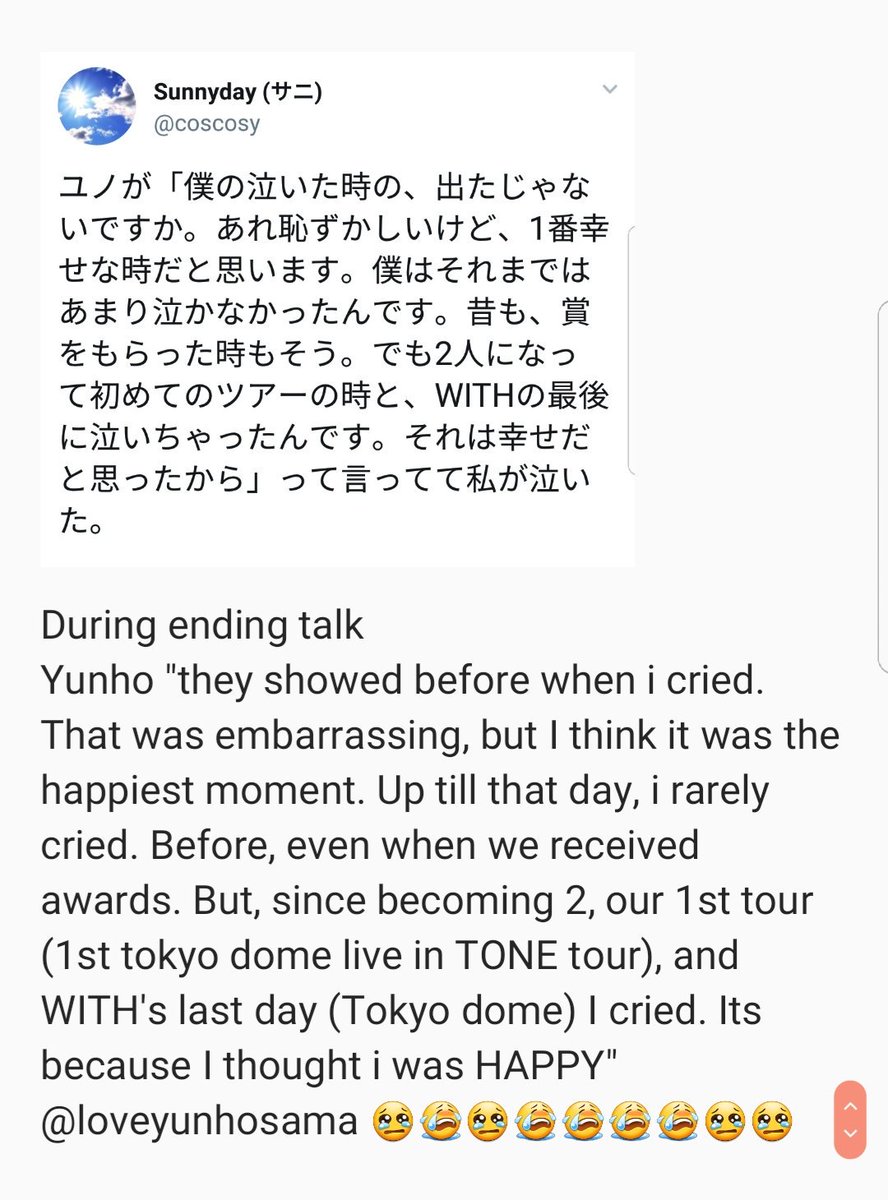 When they were suspended, today changmin was on the chair and yunho was standing. Probably in Tokyo dome the one who was worried about yunho the most was changmin. A countless number of times, while singing, changmin would turn all his body to look at yunho's direction" 😭😭 [cr: @raccowa]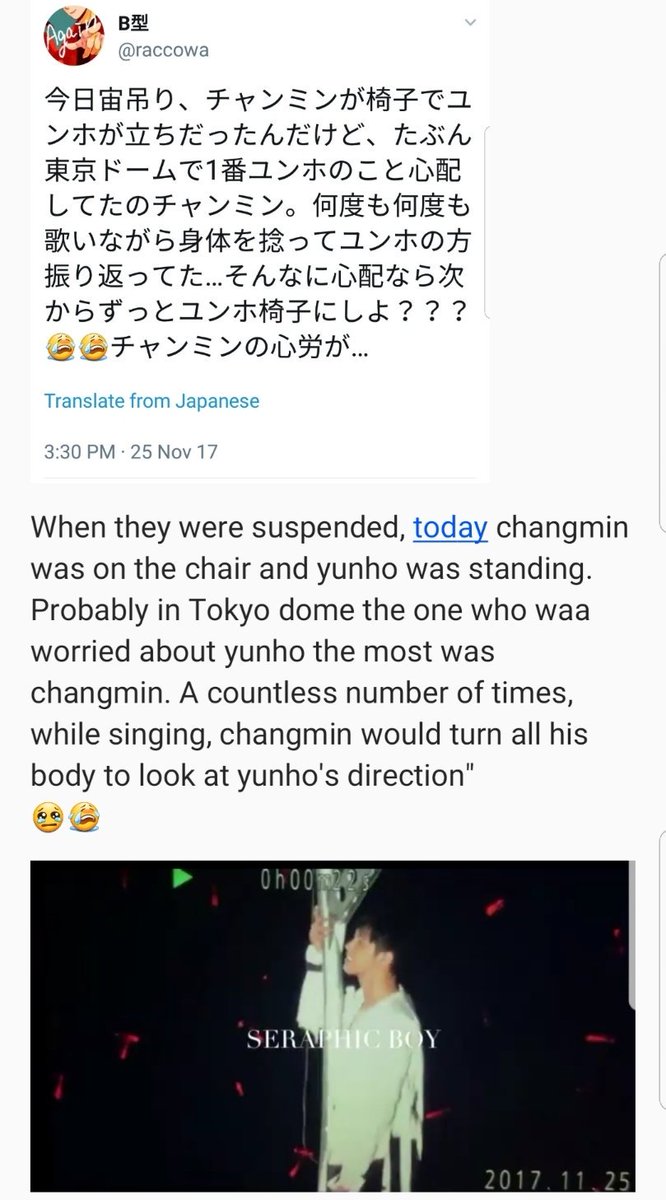 ---
Fanaccount by @yuxisushi:
I have so many things I have to say about this concert. Let me just get it out of the way…they are the most physically gorgeous forms of beauty that i have ever been blessedly devastated by, oh my sweet jesus

Freaking hilarious about the wire harnesses.
YH: i always wonder whether or not i should say this…but flying with those wires causes a man's pain. You know?
CM: of course i want to show the best and coolest side of us but i don't wanna put my everything in it!!
Such a sweet moment.
CM: *running around dome bowing, quickly losing stamina as usual* Tokyo Dome sure is big!
YH: it is. TD is so big, yet the two of us can still stand here with everyone. It's thanks to all of you
I can't tell you how we screamed when Yunho finally said TADAIMA!! And we yelled OKAERI and cried, and then staff played the clip of yunho sobbing from the WITH tour 2.5 years ago 😂😂😂 expert trolling A+
*yunho's crying face is on the big screen*
YH: 😱😂can you guys please stop… and out of alllll the photos, couldn't you pick one that looks better?!
CM: *trolling* i asked the staff that too! but they said "ummmm this is really the best one we can find"
YH: please work harder!
This is the picture changmin was glad to show off to us 😂😂😂😂😂 ooommg yunho complained so much about being embarrassed af, it was the cuuuutest

In one song, they were up in the air with wires, changmin in a chair and yunho literally standing on a little platform, clutching onto a pole. It looked so scary. Changmin spent the whole song looking over again and again, like he was worried about Yunho's wellbeing 😭
YH: 2.5 years…it feels different to each person, but to me, it was a long 2.5 years. I put my everything into being on stage simply because I loved all of you. But from now on, not just that I love you; I want to treasure you too. You're our pride too.
CM: we aren't the world's best looking, or the strongest singers, or the best dancers with the best performances. But, all of you continue to support us without question even still, so I want to show you the best of us, to never let you down.
It's hard to explain how it felt listening to them talk like that. You could feel the genuine gratitude and humility in their words. You could feel how deeply precious they hold onto every stage, esp Tokyo Dome. They're both so humble, so truly good.
---
Fanaccounts Translated by @beriko0214:
———————-
Credits:
As we indicated above,
Compiled and Shared by TVXQ! Express