Tohoshinki appeared today too on FM FUKUOKA live radio programme「SUPER RADIO MONSTER RADIO★GON」at 13:00~!
Fans could also watch Tohoshinki at the studio through the radio's website (here), and send them messages.
Even though the appearance decision was announced on official website (here) in a short time notice before the broadcast, many fans managed to turn up in front of the studio! Below are some screen captures of Tohoshinki's broadcast at the radio studio, the 15 minutes feature, and some translations~
Photos:
screencaps starting from 1:07 onwards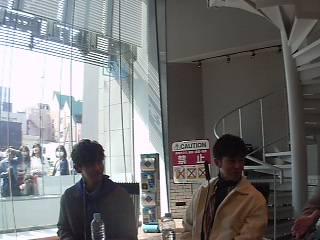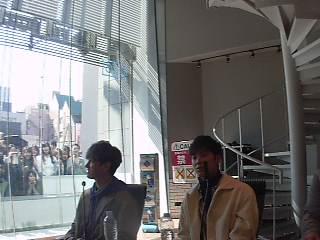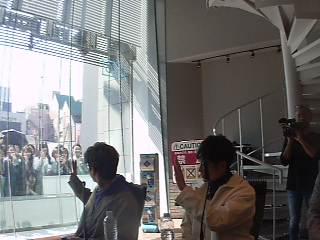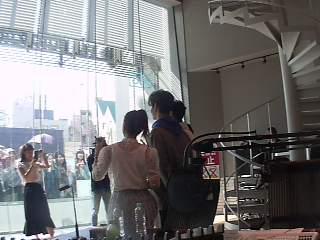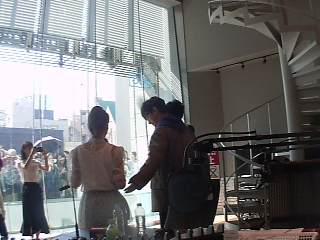 [cr: @twinstvxq]
---
---
Audio:
[cr: @t_yukichi | yukichi: here]
---
[cr: TVXDrip | tvxqinpocket: here]
---
---
Partial Translation:
Translated by @beriko0214 (1, 2 and 3):
MC: Today's theme is something that you want to change/replace. you can tell us anything like you want to change your hairstyle for example. anything..something little is okay
YH: I want to get a new bed.
MC: Bed? What kind of bed do you have now?
YH: It is pretty ordinary.. but I need a bigger one. When I lie down, I can be totally relaxed. I want to have a big bed.
MC: Do you have enough sleep?
YH: Lately, we are quite busy.. but I sleep ~6 hours.
CM: That is enough.
MC: Ah~ so you want to buy a king sized bed?
YH: Yes.
MC: Wow, you must look so cool in bed.. i can imagine..
MC: Yes Yunho-san in bed…
YH: hahaha
CM: I have been thinking about this. I want to get a new set of Tableware. I cook at home .. I live alone.. if I have cute plates and plate my dish on them, my dish would look even more delicious. These days I became aware of something like that and I am really into it.
CM: I just want to get new Tableware. I don't cook every day but once in awhile I cook. Initially I was using Tableware that were gifts from my mother. But these days, I have my own style and I want to get what I like.
MC: Fans may start giving you Tableware. You may get too many.
CM: Ah, I will be in trouble.
MC: Yes, fans should just leave you alone (let you do whatever you want to do).
CM: I have my own style/I am picky.
MC: For example, what kind of Tableware that you like?
CM: Something simple. I prefer it is in one basic soft color rather than in a variety of colors.
MC: Which color do you like?
CM: I love simple color – grey, white or silver.
MC: Oh you like something that makes your dish look better/delicious.
CM: Yes, on top of that I want my Tableware to match with the environment of my residence/whole house and I believe that would make my dish look even more delicious.
MC: I've never imagine that CM gave me such an enthusiastic talk about a plate.
YH: Yeah.. he is really passionate about it. I envy him. I have zero interest.
MC: www, that means you don't cook?
YH: I am pretty bad at cooking.
MC: Oh I see.
YH: yes, that is why I envy him.
MC: In any case, you prefer to get a new bed than a new plate.
YH: Yes, to have good sleep is very important. (I can't hear what CM is saying)
MC: Oh that is actually good. Sleeping and cooking.
YH: I listen to our own songs lately like I LOVE YOU. It is like I am looking at myself as if I am the third person and I feel that it is really a great song.. I guess I am unique.
CM: I watch Major league baseball game when I wake up. I care baseball more than music [cr: via @sa05rot]
About Jealous, MC asked audience whether they keep buying CDs until they get all 6 kinds of jacket card (photos). YH said, "I do too" ww [cr: via @sa05rot]
——————-
Credits:
As we indicated above,
Posted and Shared by TVXQ! Express