The first day of『Tohoshinki LIVE TOUR 2018~TOMORROW~』at Nippon Gaishi Hall, Nagoya has been completed successfully! Concert started at 18:33 and finished at 21:13 [cr: @anywhere4you]. Encore tshirts were blue [cr: @anywhere4you]!
Today the #もしもし明日コン corner was introduced with Tohoshinki listening to different moshi moshi (hello) recorded by fans! Some of the ones played were from fanboys too! At the end Changmin and Yunho's voices was heard, but it looks like the fans did not recognise them and the boys scolded the fans saying that those who listened to TOMORROW album should know it XD (probably referring to the hidden audio messages in the album)!
Yunho mentioned that they wish to hear more from the fans through finding the T hashtag again, kabuki and Senryuu. [cr: @anywhere4you]
Photos:
[cr: @GLEAMTVXQ]
---
Niigata's Tohoshinki signed receipts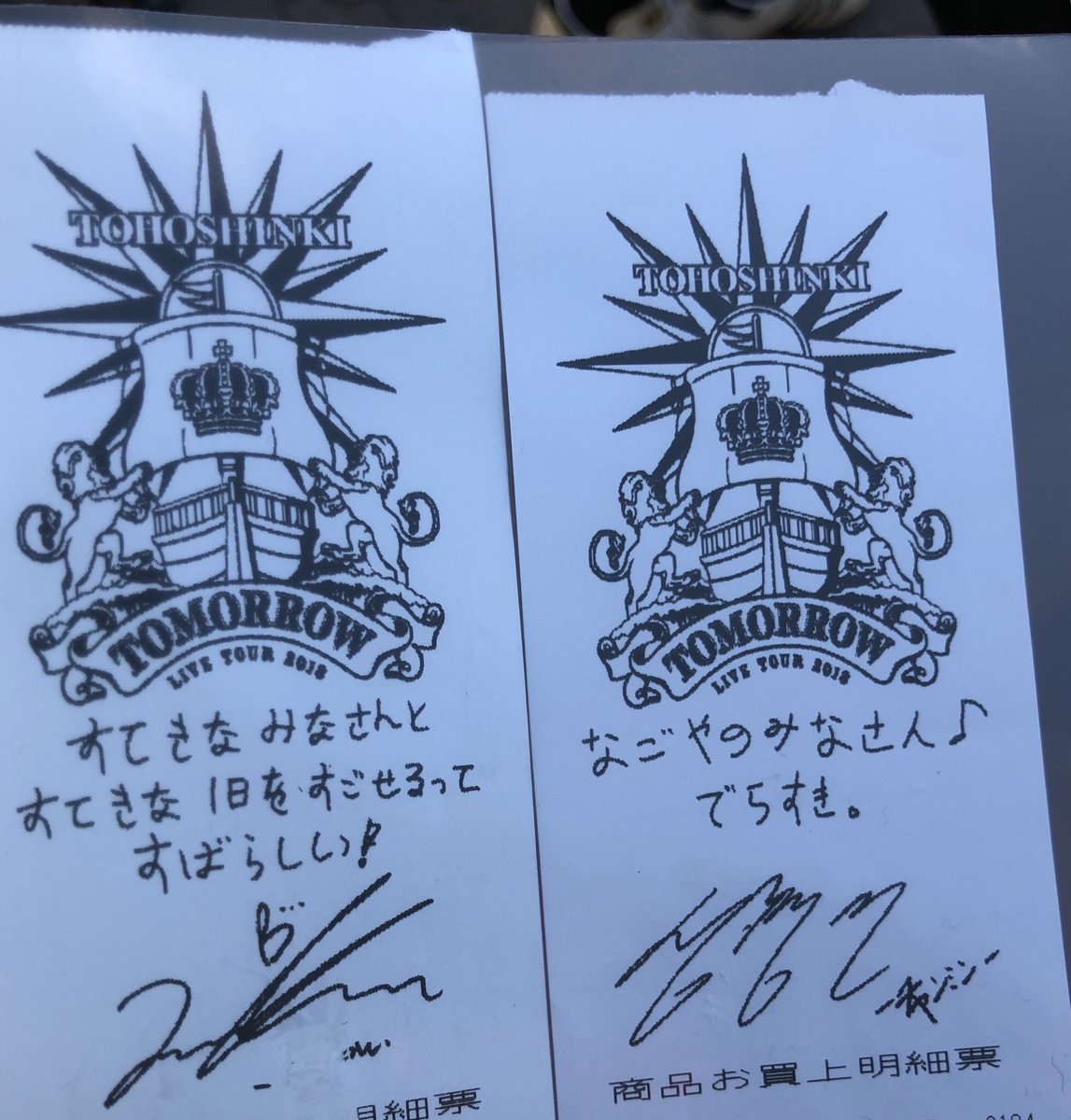 Translation:
Yunho: it's wonderful to spend the beautiful day with the beautiful you (all)!
Changmin: everyone in Nagoya🎵 I love you
SMTOWN Passport Stamp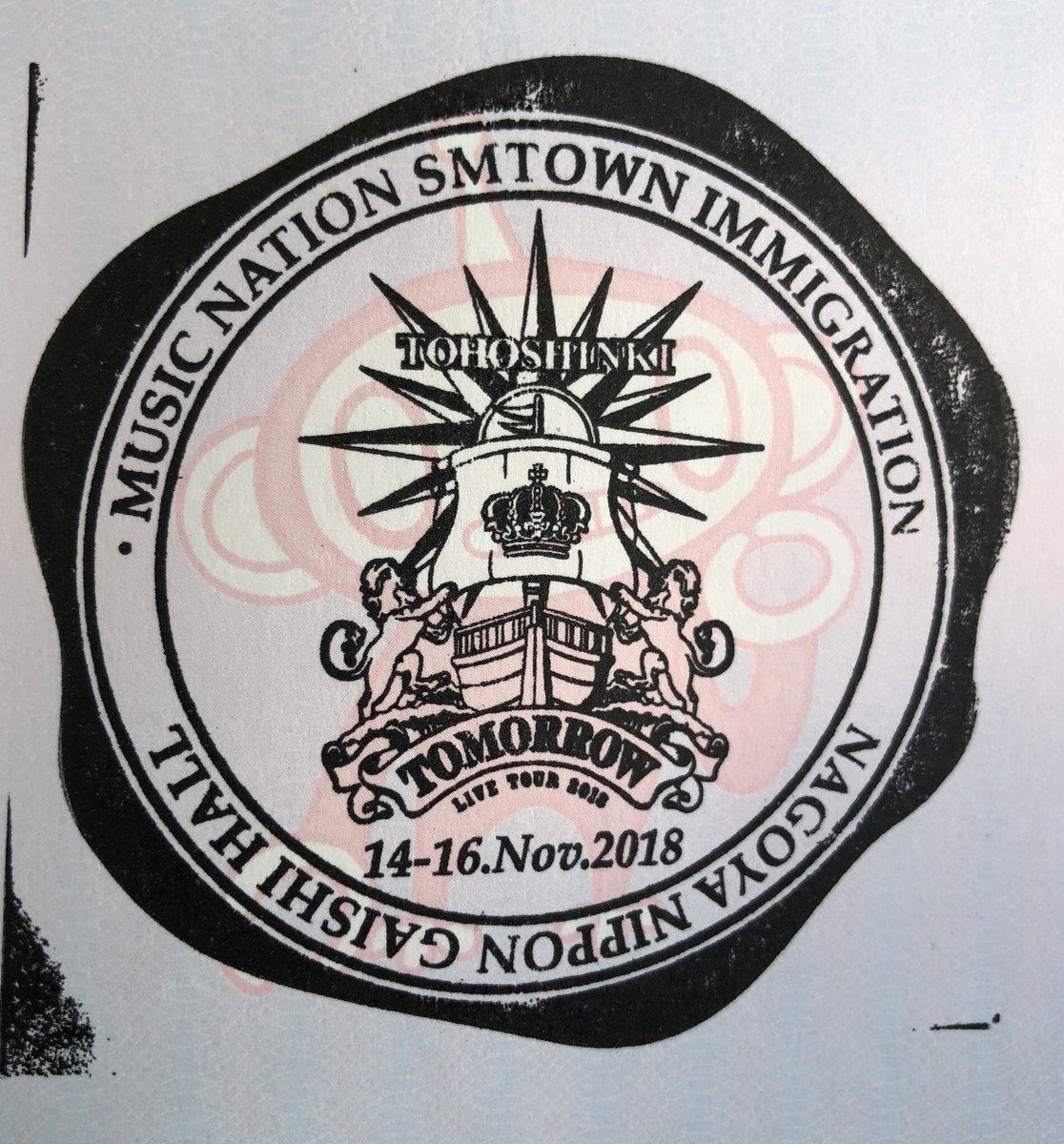 [cr: @anywhere4you, signatures translated by @clefaire]
---
---
Fancams:
electric love
[cr: @0218moumou]
---
---
Fanaccounts:
Translated by @clefaire:
Chami: Yunho's outstanding performance was the best right? Handsome right?
Yunho: no no, Chami's back was so sexy right? His english was perfect too.. [cr: @hominismmomi]
Chami: the next song is..
BE: eeh!!
Chami: anyway, any of you watched Bohemian Rhapsody?
*just a few raised hands*
Chami: there's a late show of it today and I want to go see it so we should move to the next song!
Chami: lately, in dressing room, I often stomp my feet and make a fist with my hands, together with staffs, doing the beginning of We Will Rock You. [cr: @anywhere4you]
---
Translated by @ihavebeensober:
Nagoya D-1 Yunho's last words
Since lots of things happened in this year, I've been thinking what I can do to make you all smile…we'll try our best to sing songs just as we are. I'm so happy to see your smile tonight. It's getting cold, take care of yourself. [cr: @hominismmomi]
---
---
Not a fanaccount, but as reported by the Bigeast Staff report (here) of some quotes from their MC:
They collected「もしもし」(Hello, phone call in Japanese) voice and some voices like "Ahh Hello" so
CM "Why this's so erotic"
YH "This's not erotic concert (so don't make that kind of voice)"
Last greetings
YH: We are trying to work our best to keep your smiling, so today when I saw that, I'm so happy. Thank you so much.
CM: Even anything happened, you guys keep supporting us so Thank you so much. That's why we need to try more and more.
[cr: Translated by @MM7608]
—————–
Credits:
as indicated above,
Compiled and Shared by TVXQ! Express