On 180817, TVXQ will hold TVXQ! CONCERT – CIRCLE – #welcome in BANGKOK at Impact Arena, Muang Thong Thani. Below is the concert timetable, rules, as well as the goods as shared by the organiser.
They also shared memorable quotes of TVXQ during their T1ST0RY concert at Bangkok (150530), which you can find at the end of the post~
Timetable: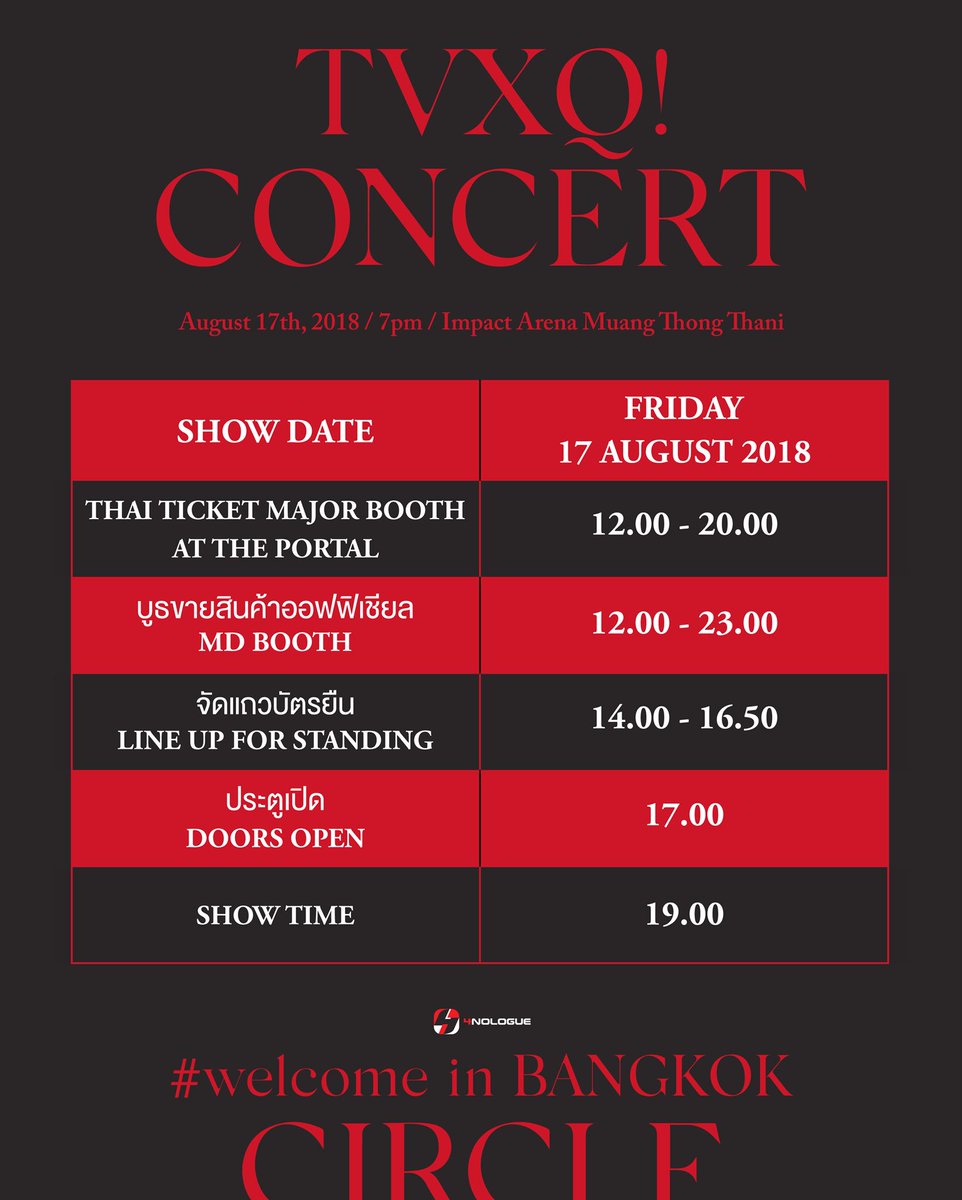 ---
Rules and Regulations:
Rules & Regulations TVXQ! CONCERT -CIRCLE- #welcome in BANGKOK

1. Photo, video and audio recording are strongly not allowed no matter by mobile phones, cameras, tablets and other recording devices. Video audio and live steaming through any applications and channels are also not allowed.

2. Selfie monopods, mobile zoom lens, cameras, video cameras, polaroid cameras, tablets (with over-7-inch screen) and other recording devices are strongly not allowed in the show. We will have the deposit point for you to deposit those devices. However, we are not responsible for damages of the devices. Therefore, we firmly recommend you not to bring them to the venue.
*If violation occurs, we reserve the right to delete the images, videos, and audios then ask the violator to leave the show immediately.

3. The following items are not allowed in the hall
– Light boards, light hair band, unofficial light stick, paper bigger than A4, cloth bigger than 20 X 80 cm and any kinds of banners except official goods from SM Entertainment.
– Folding chair mini ladder, balloon sticks, balloons balls, whistles, horns, megaphones and also alcohol beverage, drug weapon, edge tool, explosive and any other dangerous items. We will have the table for leaving these items in front of the gate before entering the hall please note that it is not the deposit point.

4. Please don't throw mobile phones, dolls, slogan, water bottle or any items on stage as it may cause injury to the artists and audiences.

5. All kinds of food and drinks are not allowed in the hall except drinking water.

6. Only the plastic ticket is required for entering the show.

7. We have the first aid area which will support you until the show ends.
If you need help please ask our staff at the show to lead you to the first aid area.

8. There is no station for accepting gifts.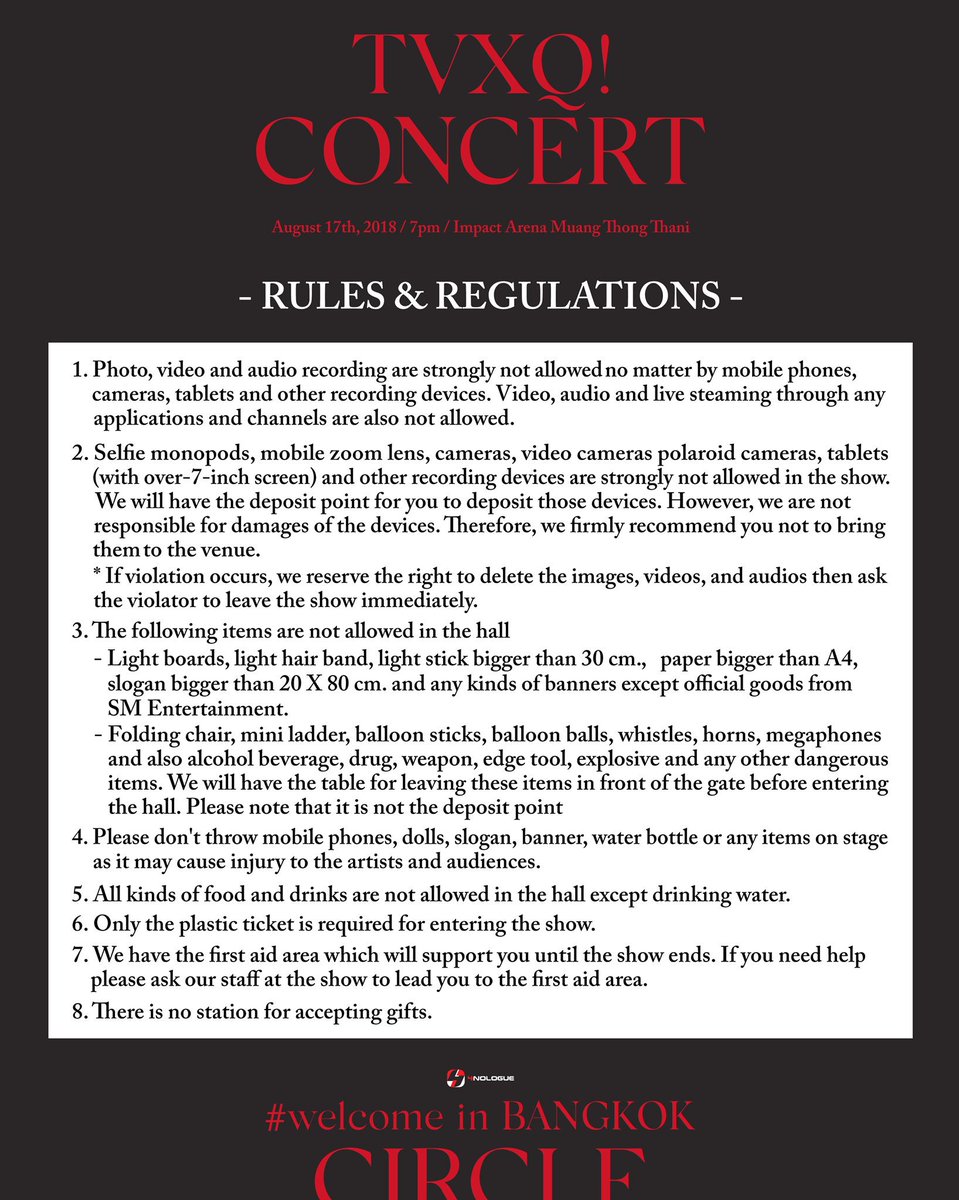 ---
Goods:
Shared on 180813:
TVXQ! CONCERT -CIRCLE- #welcome in BANGKOK Official Goods

– Available on the show day; 12PM onwards
– Limited purchase only 2 Light Sticks per time
– Cash only
– Each item has limited amount.
– The item cannot be returned.
– The official item shall have the hologram sticker.

---
TVXQ's memorable words to Thai fans during their T1ST0RY concert at Bangkok (150530):
" Everyone knows I am a person who keeps the promise. We will come back with better of TVXQ! Don't forget to wait for me. We will meet again. Thank you so much for all good memories. " – U-KNOW –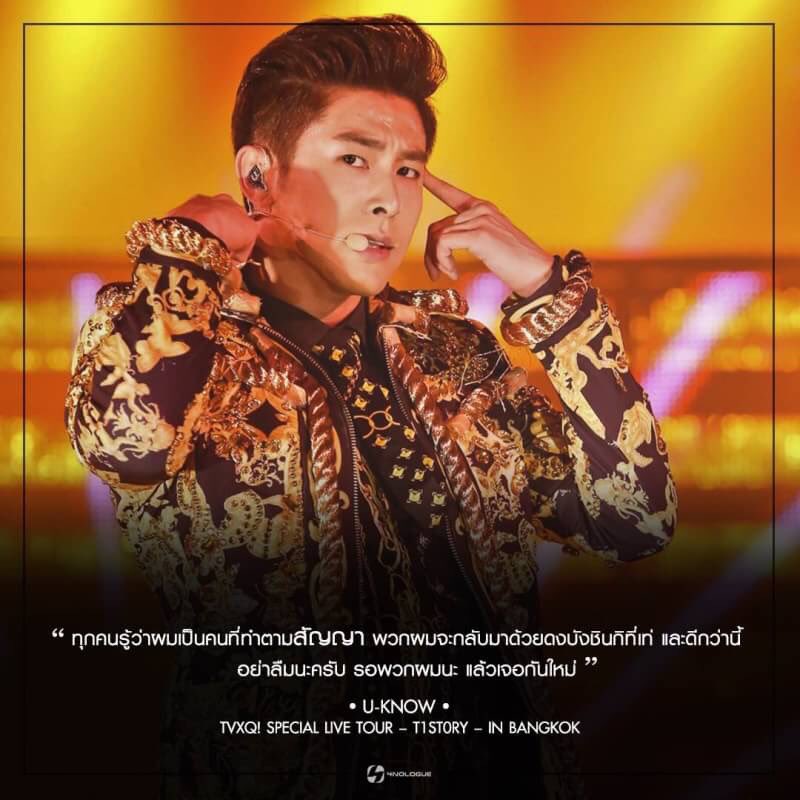 " I am sorry to keep you waiting so long. Today, I would like to say that everyone who came to this concert is special than anyone else. " – MAX –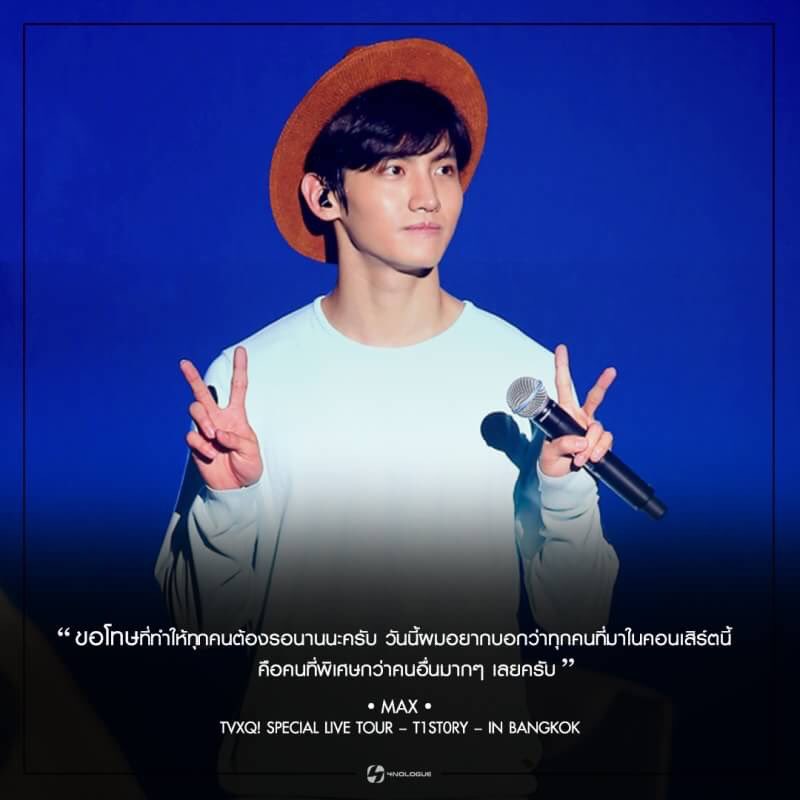 ————————
Credits:
4NOLOGUE: 1, 2 and 3 and @4NOLOGUE: 1, 2, 3, 4 and 5,
Posted and Shared by TVXQ! Express