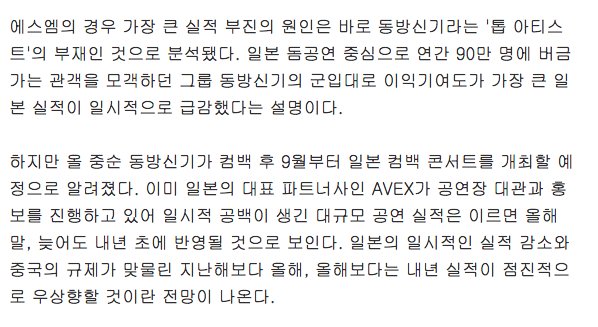 Extract Translation:
(Article on the financial performance of the major Korean entertainment agencies in the light of the THAAD issue – rough trans)
In the case of SM, the biggest factor for the slump in their results was analysed to be right away, the absence of their "top artiste" TVXQ. It was explained that this was because TVXQ as the group that had mobilised 900,000 people during their dome tour in a year, due to their enlistment, (SM)'s Japan results which contribute the most to their operating profits, declined temporarily.
However, around the middle of the year, it was made known that after TVXQ's comeback, a Japan comeback concert is scheduled from September. Already, (SM)'s Japan representative partner, AVEX, has surveyed the concert venues and is doing the publicity during this temporary hiatus, as such the (financial) results of the large-scale concerts would be reflected at the end of the year of if later, at the beginning of the year. While the results in Japan have temporarily declined, coupled with the restrictions imposed by China have caused (the decline in SM's financial performance) last year, results are expected to gradually head upwards this year and more, the year after.
—————————-
Credits:
아시아경제 via naver,
Translated by @snxy,
Shared by TVXQ! Express