TVXQ had a 14-page feature for Magazine "VOGUE JAPAN" – July Issue 2018 (released 180622), which can be ordered from Global market: here (temporarily out of stock) and Ktown4U: here.
Please make sure to thank the translator for translating the interview \ (*>ω<*)/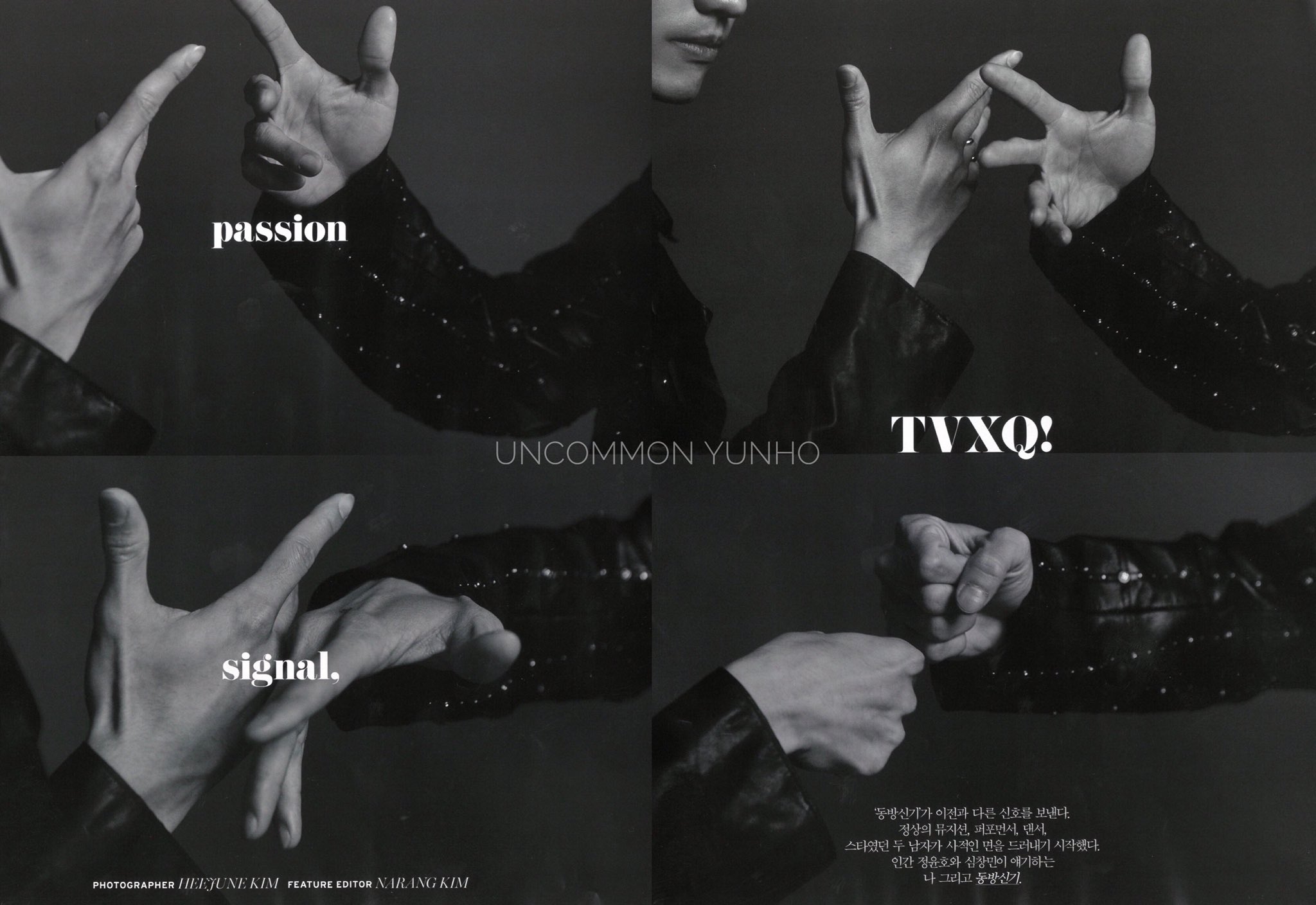 [cr: @uncommon_yh]
Interview:
Interview Translation by @janieTVXQ (TVXQ are Yunho and Changmin):
The Great Showman, U-Know Yunho
"FM" to "Freedom"
I really liked the army. Of course, I wouldn't go twice, for fear of those memories being tainted. (laugh) The pure high school boy got a different colour after going to the army. I became looser especially. I guess it was because there was a lot of time to think in the army. I had been keeping U-Know Yunho and Jung Yunho apart until now, but I felt, how would it be if I started to merge the two? Since TVXQ has a strong mysterious image, I also tried to show the "FM" (T/N: Field Manual) side of me. Now, times have changed, and I think it will be okay to approach the public as the free Jung Yunho off the stage. I was worried since I didn't know how people will react to it, but my motto is "Let's work hard". I thought that even concepts like this would be recognized if I work hard at it in my own way. After I showed my real life through a few programs, I heard, "Jung Yunho has this side of himself?" It felt so freeing. Of course, still, I am strict on myself when I'm on stage. Because I am the age and have the experience to be professionally responsible. Aside from that, I'd like to continue to be easily approachable. 
"MAKE" over "MADE"
I am quite adventurous. I like to learn, attempt, and try different things. one of those thing is to reform things. I buy the material at dongdaemun or Itaewon and reform it myself. I am quite interested in fashion. If I was "Made" in the past by wearing clothes that they put on me, now I'd like to "Make" my own individuality. When I started having these values, the way I perceive things changed. For instance, there is this picture on the wall. (It was a portrait.) I wouldn't simply say that this is a good picture, but that I would like to use the colour of those eyes as the lights on the stage. I learned the happiness in discovering the other side of objects and insert myself in it. Recently, I thought that in Typography, mixing Chinese characters, Korean Hangul, and the English Alphabet would be pretty. It may become an album image in the future. When I started looking around myself like that, my life became richer. It also made me change my developmental goals and plans for myself. In the past, I wrote down goals for 10 years, or 5 year, but now, I don't only write down my goals but also ideas and reflections I get from things around me. For instance, production ideas I get from watching street busking. I don't get to watch a lot of performances since I don't have a lot of time, but I try to watch them often as a hobby and also as study material. All this change came very naturally. I didn't force any of it. It is the same for languages. After I learned Japanese, I naturally wanted to learn to speak English. My goals is to speak 4 languages, including Chinese. Same for spaces. After living by myself, I wanted to "Make" my space in my own style. I revealed my home on "I Live Alone". There, the panel laughed at me saying that it looks like a grandfather's house, but I still like things to be analogue. From the location to the style, I am hoping to make it completely in my own style. I actually have no middle ground. When I think about doing something, I stick to finishing it from the beginning to end. So I will also not reveal this space until I like everything perfectly.
The most important standard is myself
The most important for me is to be someone who doesn't shame myself. Even if other people tell me I'm great, if I don't see it myself, I can't agree with them. I have to be great to recommend ways to other people, and I have to love myself in order to love anyone else. For instance, I like to invent to the point where I got a patent. I don't have any plans to actually make profit from the product. Because it's for self-satisfaction. In the future, I'd like to make a coat with a speaker built into it. In the winter, you can put it on while listening to music. You can control the volume on it so that if you want, you can let the person next to you hear what you're listening to. I would custom-make it so that I'm the only person in the world wearing something like that!
Of course, it would also be good to share my creations at times. For instance, how I released the drawing I did for the 2013 Gwangju Viennale as a cell phone case. I like to draw. To the standard of the average person, my skills are lacking, but I take it to the opposite direction and draw just whatever I want to. Not so long ago, I got inspired by the scenery on a trip, and I did a drawing. it would be great if I got an opportunity to show it to you. The final destination is likely to be TVXQ. I've done other work in drama, musicals, and fashion. But all cultural arts are connected. I think doing even small amounts of artistic activity will become a good synergy to TVXQ. Perhaps that's why I work so hard.
TVXQ going forward
The fans are the roots of TVXQ. Since we were apart during military service, I wanted to prepare as much as I could to show them. I wanted them to think, "They are changing according to their age. They said they wanted to show what was next, and they kept true to their words". Our album "New Chapter #1: The Chance of Love – The 8th Album", I would give about 70 points. I gave it points since we approached the public in an easygoing way, and that our sincerity came through. However, as a systems issue, it was too bad that our promotions were so short. After you release an album, there needs to be some time for the fans or the public to get used to it, but it isn't like that anymore. That's why I tried to show my "Yunho-ness" through variety programs and other mediums. Going forward, we will continue to be more and more involved in creating our albums like we did for this one. As artists who worked for 15 years, I feel it's important to meld your own thoughts into it. Not just for writing lyrics and composing, but also visually, the artist's viewpoint should be in it. I'm excited and sometimes, I'm sure it will feel like a lot of pressure. But we will always enjoy it.
Jung Yunho Show
One day, I'd like to make my own show. I think about 5 years from now would be appropriate. It wouldn't be something extravagant, but it would be nice if it was an extended version of a Jung Yunho fan meet. It would be an experiment for myself before we apply it to TVXQ. At that point, there will be fans who have become married, so it would be good to make a program that a whole family can attend. It wouldn't just be for fans but a playground for kids or a couple's date course tat anyone can enjoy. If I were to take it a step further, as the musical "Gwanghwamun Love Song" was made with songs of the late composer Lee Young Hun and our senior Lee Moon Sei, it would be nice to make a show combining a concert and drama of things that I felt. I watched the movie "The Great Showman" 6 times. I was captivated by creating something out of nothing. Although I don't hope for it to be "Great", I hope it's a show that I'm not ashamed of. In order to do that, I'll need to focus and study harder
---
Small but certain happiness, Max Changmin
A child who doesn't come forward
My first memory is of myself in kindergarten. I don't know why, but a little girl was crying because of me. I remember the teacher liked me a lot. I remember that in elementary school, my mother suggested that I run for class president. I really didn't like going out in front of a lot of people and I was terribly shy. But weirdly enough, as soon as it became the election day, I was talking fluidly as if my tongue had a brain on it. I became the class president after I said, "If I become class president, I'll buy tteokbokki for everyone". My mother was very happy. My father said, "Be humble. Don't be a nuisance to other people!" So in my family, everyone feels it's very interesting that I am a part of TVXQ. They wonder how a boy who hates standing in front of people so much does work like this. Anyway, my father's words to "step back, be humble" are words that didn't just make me to be who I am now, but also advice that I'd like to continue to keep in mind going forward.
Starting social media
In the past, someone became a fan of a singer because of their songs, but now, they also take interest in the thoughts of a person, what hobbies they have, what they where, where they go, and their lifestyle. For 15 years since debut, we showed TVXQ on stage, but we didn't show our lifestyles. We started social media recently. I thought that showing myself through social media and to connect and communicate with people is the "need" that the public has right now. That doesn't mean I take dozens of pictures and share the one that looks good on social media. My goal for social media is not to show that I am better than someone else. Putting up pictures I took while eating at a fancy restaurant is not something that works with me. Even without doing that, celebrities feel a distance to the public and a lot of people quit social media because of competition. I just pst what I like, such as books or Lego. The other time, I posted a picture of a Lego structure that I worked on for 25 hours and 9 minutes. I didn't want to show it off, but I was just getting across, "Shim Changmin is a person who likes Lego."
Hobby collector
I got more hobbies after the military. Before that, I only worked and I didn't know how to spend my free time. Since all I did was work, since I was young. For me, a break was eating something good at home and watch TV and sleep. Of course, just resting without thinking is necessary, but it's also spend free time by thinking, "I'm giving myself some time". In the army, there is 'personal time'. In that time, I wrote in my diary and read, hoping that I would have improved myself after I was discharged. Going forward, I would like to open up all possibilities given that it doesn't affect TVXQ negatively. I'd like to learn everything that I possibly can. More than spending money and collecting something, I like to learn new things. My one worry is that when I get into something, I fall so deep into it. I get physically tired because of how much I've been learning. For instance, there are days when I get 3 or 4 different lessons, such as exercise, guitar, cooking, and foreign languages. I do that every day when I'm not working. Recently, I've been telling myself not to fall too deep into something and to enjoy whatever it is. I'm afraid of loving myself too much. If you focus on something you like, you can't help but fall just into yourself. However, reading is something I try to do. I like stationary things more than active things. Recently, I have been enjoying the humanities and non-fiction. I also read bestsellers, thinking that there's a reason why people like it. After I saw the writer Yoo Shi Min talk about the 'nudge effect' on "War of Words", I decided to read Richard Thaler's "Nudge". It turns out I'd bought that book already. I guess I didn't realize it since I am the type of person to keep a few different books around the house and read them as I see them. Since I am not an expert, I sometimes fall asleep while reading difficult humanities books. But I don't stop reading a book just because it's too hard. If time permits, I would like to earn a license in something. I can't say exactly what, but I'd like to study deeply into something. If time permits.
Areas to learn
I got close to Oh Sang Jin because our hobbies are quite similar. He recommended that I try golfing. Perhaps it's my bias, but golf is something that I've never had the nerve to try because it has an image of being a sport that rich people with lots of time enjoy. He told me that it isn't so when you actually try it, so I'm thinking about it. Right now, though, I'd like to focus on working out where I can feel changes in my body. I find it fun that my muscles change based on how hard I work, and also exploring the changes within my body. It's not simply just your body, but you get to think about yourself and take care of yourself through it. That's why I also did yoga, if only for a short time. Whether it's golf or a different sport, or a different world altogether, my mind is always open.
TVXQ's content
To take "New Chapter #1: The Chance of Love – The 8th Album" as an example, we tried to approach the public with songs that are more 'easy listening'. However, we couldn't throw away the powerful performance that TVXQ has now become synonymous with, and so we tried to find the middle ground. Hm, instead of 'middle ground', it would be better to say that we were showing our own thing. We can't ignore the trends of pop music, and since we have to keep TVXQ's intentions, we will continue to walk that balance in our own colour. This is all while remembering that before we are artists, we are people who produce commercial art. Even so, I don't feel the pressure to leave a precedent for idols. As time passes, something will have been made, naturally. Oh right, this time, half joking and half truth, there was a lot of talk that the variety show appearance was more enjoyable than the album. Of course, I have the affectionate greed of wanting the music that we made to get more attention, but it was a promotion where the 'content' called TVXQ was widely ingrained into people, so I am satisfied. You can't have everything go well. In the past, we had very powerful music so there was mixed response. I think through social media and variety shows, through this album especially, I think some of our image probably changed for the better. I liked it especially because the opposite images that each of the members showed were the complete opposite, and created a synergy. I'd like to give these promotions over 90 points. As for what kind of content TVXQ will show in the future, we'll have to wait and see.
The dream of self-satisfaction
Recently, my father said as half-joke, half-truth, "Don't try to make a big deal of something and I hope you enjoy what you want, and live happily". When I said that my dream is to become a "glutton", it's pretty much the same. I'd like to keep working hard, but also not be engulfed into it, while enjoying what I can. I'd like to also share those things with my friends and family who are always beside me. ganieTVXQ
———————–
Credits:
Interview Translation by @janieTVXQ (TVXQ are Yunho and Changmin),
Photo scan by @uncommon_yh,
Posted and Shared by TVXQ! Express