"Hallyu Kings" love calls for TVXQ.. Asian activities operation plan
Article on TVXQ's army activities and upcoming comeback in later half of year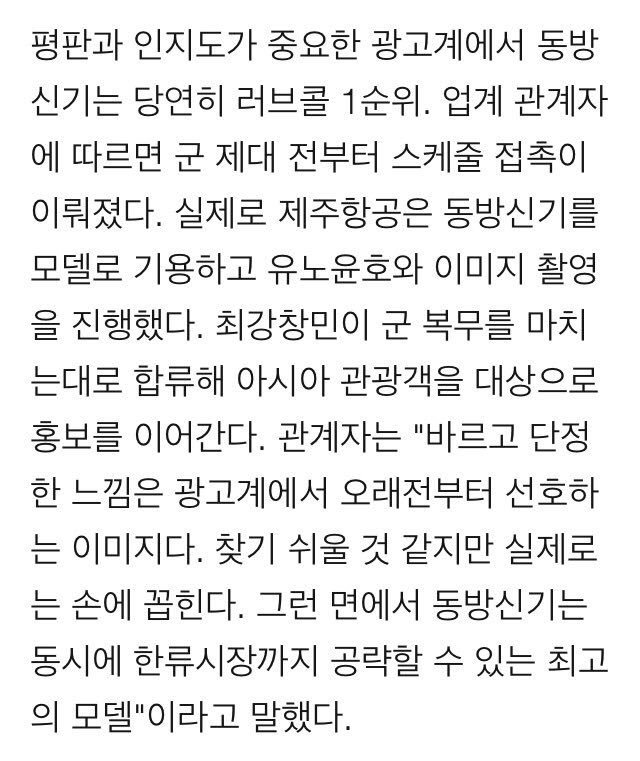 Partially Translated:
In the advertising world where reputation and recognition is important, love calls for TVXQ are clearly number 1. According to an industry insider, contract with (their) schedule was made from before army discharge. Jeju Air is using TVXQ as their model and has had an image shoot with U-Know Yunho. Once Choikang Changmin has completed his army service, he will join him to do promotions for the Asian traveller customers. The insider said, "(their) upright and decent feel has been the preferred image in the advertising world from a long time back. Although it seems easy to find, actually only a few are appropriate. In that sense, TVXQ is at the same time, the best model to reach the Hallyu market as well.
————- 
EDIT:
More translation:

A music industry said when one has spent 14 years or so in the showbiz industry, one could turn lazy but for TVXQ, it feels like they still work hard at whatever they do. That could be rightaway the key to their long run at the top.
[cr: @snxy]
————–
————————
Credits:
일간스포츠 via naver,
Translated by @snxy,
Shared by TVXQ! Express