Started SNS to communicate with the public more closely
TVXQ's captivating pictorial was revealed.
The men's lifestyle magazine Leon revealed TVXQ as the cover of their April issue.
This pictorial took place just before their first comeback as a complete group after their military service.
In the cover that was revealed, TVXQ look comfortable but also high-class in casual clothes. They show off their mature and stylish masculine charms. The two of them, who have always been praised for their tall, anime-like visuals, flipped things through this shoot and revealed their chic and mature charms instead. For the upcoming spring, they showed off comfortable and modern styling.
Meanwhile, TVXQ is in their final stages of preparation ahead of their first Korean comeback in 3 years. During the interview that followed the pictorial, they revealed some of their behind-the-scenes preparations for their new album.
The two men, who had rarely revealed their private lives in the past, recently started using SNS for the first time in 15 years since their debut. About this change, Changmin said, "This is the era of communication. We began using it because we wanted to communicate with the public closely." He said, "I want to share myself slowly in ways that can naturally show what kind of person I am."
Yunho added, "I began to use it solely for the fans. Instead of reciting off what my thoughts and philosophies are, sometimes, one picture can be more effective." He said, "I normally put up pictures of the scenery or books that give me inspiration."
Meanwhile, the rest of TVXQ's pictorial and interview can be found in the April issue of Leon.
[cr: 스포츠조선 via naver, Translated by @janieTVXQ,]
---
---
Others:
In addition, after a long time, TVXQ's official twitter tweeted (and Facebook) a link to a similar article by 마이데일리! Please like the twitter post and retweeted it, also like the article and share!
Fashion director and stylist Kim Bebe (bebekimxx) who posted before about a magazine photoshoot of TVXQ! has just posted the LEON cover saying "finally!", so it looks like he was doing LEON's~ ^^
---
The news were featured on naver main ^^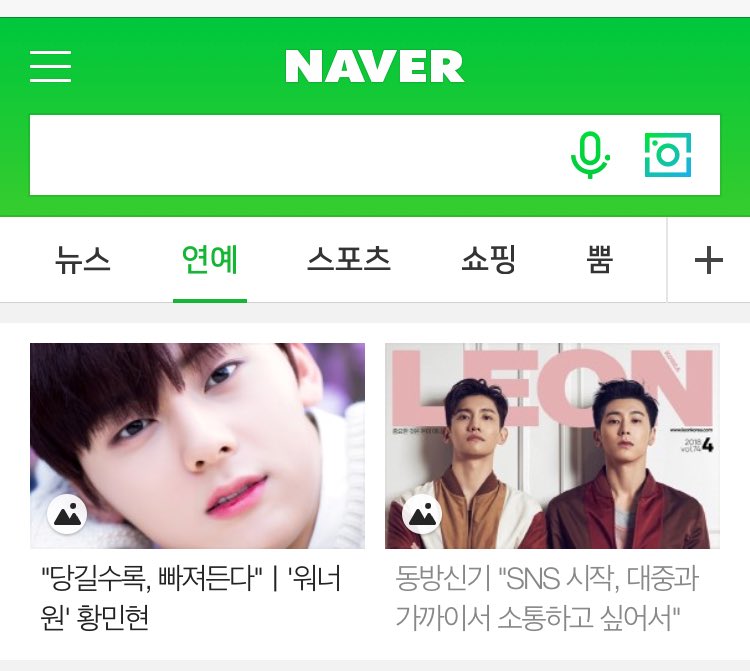 [cr: @TIMESLIP2]
———————–
Credits:
스포츠조선 via naver,
Translated by @janieTVXQ,
Posted and Shared by TVXQ! Express