On the 180708, Changmin mutually followed Yoo Seyoon, part of the comedian duo UV whom TVXQ fought against in God of Victory at 2012. There, he liked and left a comment at one of his videos where he sang Mirotic lyrics. On the 9th, Yunho also liked and commented~
Yoo Seyoon's Post:
Translation:
On the weekend it's very boring if one is alone at home (though it's nice)
Video:
Yoo Seyoon ordering from a delivery place saying 'is it not too late to place an order?' + singing the first lines of 'Mirotic'
[cr: kkachi99: here, Translated by @snxy via @zimriya]
---
TVXQ's Comments and Likes:
Likes and comments:
[cr: @madmong0212]
Comments Translation: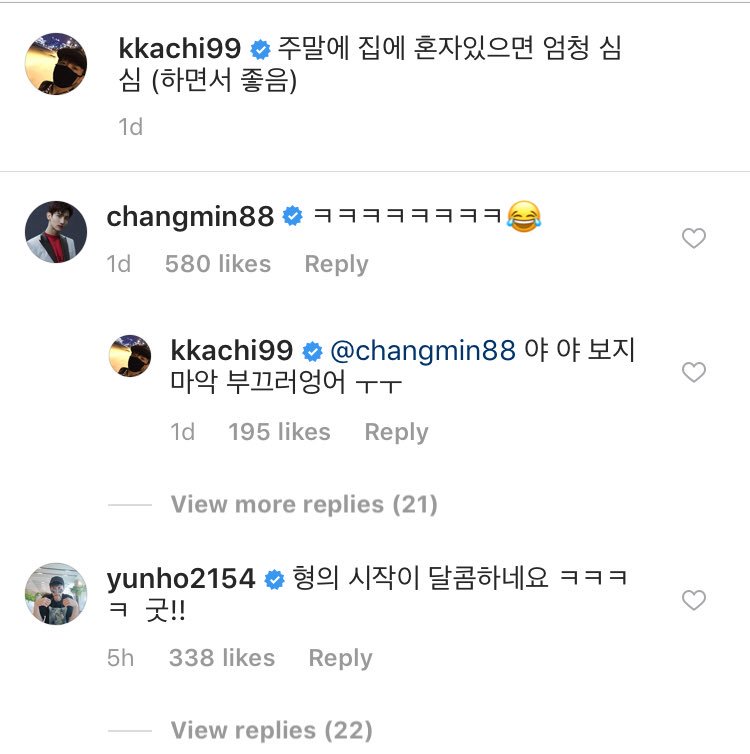 Changmin (180708): ㅋㅋㅋ😂
Seyoon (180708): Yah yah don't watch it, embarrassing ㅜㅜ
Yunho (180708) : Hyung's 'start is sweet' ㅋㅋㅋㅋ good!!
{t/n: *'start is sweet' is also the beginning lyrics of 'Mirotic'.
Seoyoon is making a pun because '주문' is Korean for 'order' and also the Korean name for 'Mirotic' . Yunho is making a pun because he's using the lyrics + also saying Seyoon's start (asking if it's okay to order) is sweet}
[cr: Translated by @snxy via @zimriya]
180708 Changmin's follow:
[cr: screencap by @Shim_Ls2v2]
——————-
Credits:
As indicated above,
Posted and Shared by TVXQ! Express