Yunho was chosen as a Special DJ for SBS Power FM's "Cultwo Show" for one day with one of its original DJs, Kim Taekyun, and also featuring studio guests 10cm and (G)I-DLE.
Yunho mentioned how his mother gave him a surprise visit on the morning that day at his house! He also cutely described his clothes as a green tea castella, and answered different audience questions, including one about Changmin (he said Changmin will have a schedule on 180831). Changmin himself tuned in, sending a text message to Yunho commenting about his words~
Below are fan-uploaded videos of the broadcast and some translations!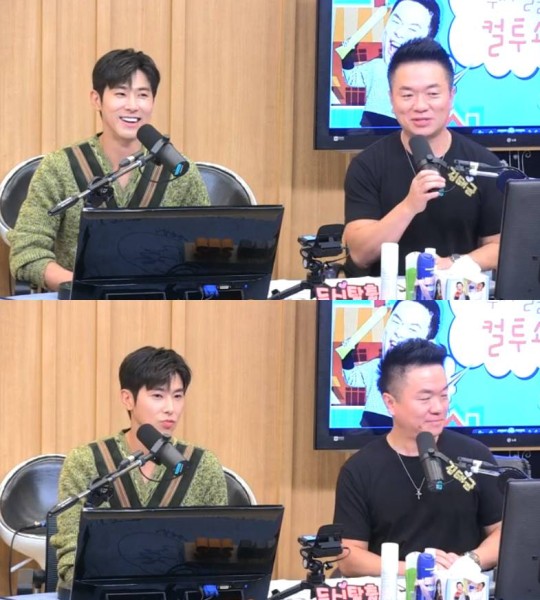 [cr: 엑스포츠뉴스 via naver]
Videos:
[cr: @t_yukichi | yukichi]
---
Yunho reading Changmin's text
[cr: @TVXQ_Laugher]
---
---
Translations:
Translated by @janieTVXQ:

Yunho said during 180830 Cultwo Show, "Changmin is funny too but recently, I think I'm funnier," and Changmin, who had been listening to the show live, later texted Yunho saying, "Wow you must be happy to be funnier than the remainder member in a group of two"
180830 Cultwo Show: Yunho said that his mom surprise visited him in Seoul. He didn't realize she was coming then when he woke up, his mom said "eat!" and he saw that there was a feast on his table. So he ate well before he came to Cultwo Show.
180830 Cultwo Show
Q: what is Changmin oppa doing?
Yunho: He was actually recording right up until yesterday, and today, he'll probably rest and tomorrow, he'll say hello to you in a different event.
[cr: @0206yhken]
Cultwo: Yunho, you have a lot of fans in New York.
Yunho: Not a lot… but they do exist ㅋㅋㅋㅋㅋㅋㅋㅋㅋ [cr: @tvxqcavely]
---
Translated by @clefaire:
Cultwo show.
A listener said that she listened to today's radio because he heard a name similar to his son. His name was Yuno, inspired by U-Know Yunho. Yunho was so happy when she asked him about using his name for her son. 😂 [cr: KR-JP Translated by @mayamin26]
Yunho said he looked like a matcha castella because of the clothes he wore and he suggested to be called as match castella got me 🤦‍♀️🤦‍♀️🤦‍♀️
No one is allowed to be that cute!!!!!😂[cr: @mayamin26]
——————–
Credits:
As we indicated above,
Compiled and Shared by TVXQ! Express