Tetsuo Hiraga (@Tetsuo_Hiraga)
Japan Billboard's Editor-In-Chief's tweet:
"Tohoshinki @ a-nation. It was transformed into a Tohoshinki live concert when Ajinomoto Stadium were filled with red light (Tohoshinki's colour) from the blue light (a-nation official colour). As usual, their popularity (in Japan) is unbelievably high. Their tank top costume were something to scream about (laughs), and there were two cars that goes around the audience area. In the finale, they ended it by singing Somebody to Love and closed with「I love everybody!!」"
Translated by @joeylfy of TVXQ! Express
---
SOLIDEMO, a rookie J-pop group from Avex, who also performed in a-nation.
They mentioned Tohoshinki in different blog posts on their website, here are some:
—-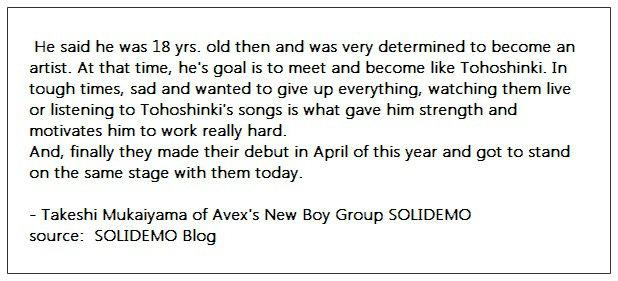 [Translated by @bumblebeeniee]
——
———————–
Credits:
As indecated in the post above,
Shared by TVXQ! Express