First time held in the middle east! SMTOWN Live World Tour VI in Dubai is scheduled on 180406 at 6PM at AUTISM ROCKS ARENA, Dubai Outlet Mall. This was announced through the concert organiser, whose official post can be found below: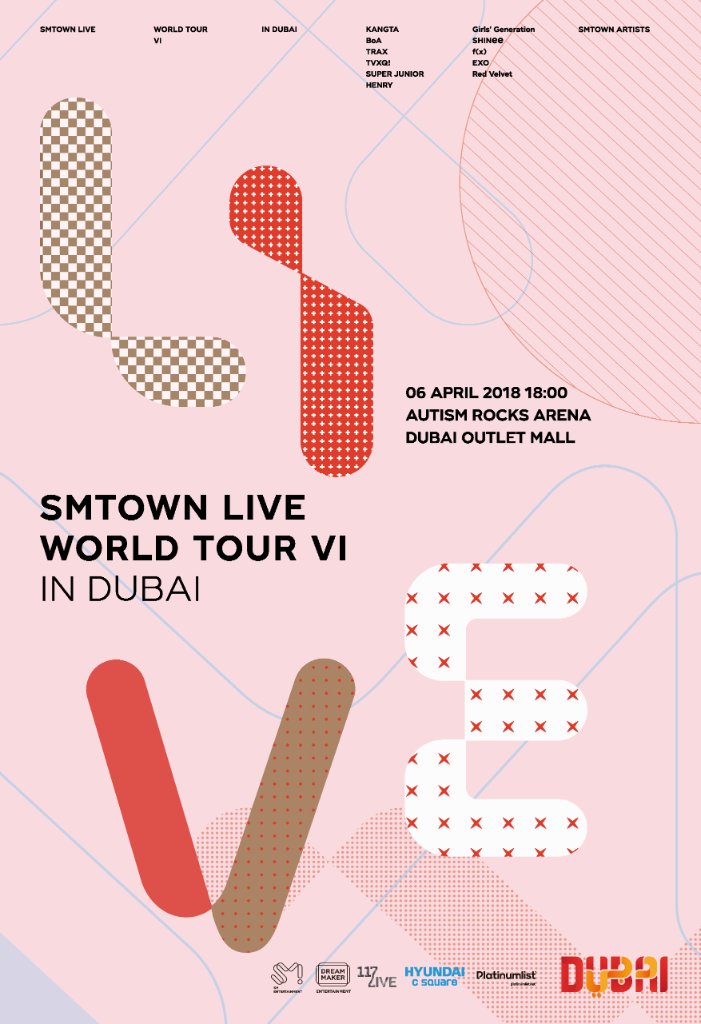 THE BIGGEST NAMES FROM SMTOWN ARE COMING TO DUBAI, IN ONE HUGE KPOP FESTIVAL!
The SMTOWN LIVE WORLD TOUR VI show will feature performances from the world famous Kpop superstars such as KANGTA, BOA, TVXQ, SUPER JUNIOR, GIRLS GENERATION, SHINEE, EXO, RED VELVET, TRAX and HENRY!
These acts will be unleashed at the autism rocks arena for one night of Korean fun! SMTOWN live, which started its first tour in 2008, has been held in major cities around the world like Seoul, New York, LA, Paris, Tokyo, Beijing, Shanghai, Bangkok and Singapore… and now Dubai!
The show on April 6th 2018 will consist of amazing performances including unmissable collaborations, as well as an SMTOWN live exclusive EDM section!! not to mention the extravagant stage productions Kpop is known for!
To buy tickets before they go on sale to the general public please register your information below:
---
Though they were not included in the organiser's promotional video, TVXQ! were listed in the website post have been mentioned among the artists attending in an official account related to the local news channel Alarabia (@SabahAlarabiya: here). Therefore, it could be assumed they are attending.
Based on people's review of the venue (here), it seems to be an outdoor one that could take around 20,000 people (the indoor venue is still under construction), and traffic could be an issue when leaving, so keep in mind these points when booking flights right before or after the concert.
———————–
Credits:
@Dubai_Calendar: 1 and 2, 117 Live and @SabahAlarabiya: here,
Post Written and Shared by TVXQ! Express