TVXQ had an interview with the Arabic news channel Alarabiya. The first part was broadcast on their morning show "Sabah Alarabiya" on 4/1 (you can find it here, and in English subs here)
and the second part will be broadcast on 4/2 at 9am (AST), (channel's live stream on youtube: here.)
Alarabiya reporter, Ashwaq, who interviewed them, shared on the story of her snapchat account (ashwaq.alatoli) a photo and videos where she talked about some behind the scenes episodes from her interview with TVXQ!
We are re-posting here some translations of her report (as translated text, no videos or audio unless we get her permission to re-post them). In addition, Sabah Alarabiya announced TVXQ's signed cards which fans can win by commenting on the interview's official videos.
Snapchat Story:
Shared before the interview broadcast:
Caption: What do you think we are doing :)?!
Snapchat Video Translation:
"Tomorrow's morning insha'allah is Dong Bang Shin Ki's Interview and I hope you guys will like it"
"you kept asking me about the (stories) behind the scenes, honestly they were so wonderful, spontaneous (easygoing), and so cute. The one I talked to the most (off air) was Changmin because he knows English well, we were chatting and I felt he was excited as well. He asked me 'what should I do in Dubai, and what I should not do?', 'how is the weather?', 'how is **' ٍso they were really excited, and I got excited myself and told them to bring summer clothes with you"
{t/n: the reporter talks too fast, so any ** refer to words I couldn't catch}
Shared after the interview broadcast:
Snapchat Videos Translation:
{t/n: only TVXQ-related parts are translated}
"The interview was one of the calmest interviews I have (ever) done to be honest, because Dong Bang Shin Ki were really calm and relaxed" "But the second part is much better, I have done a new thing this time. (because) I would like that we add a new thing every time, so I hope you'll like it even more.."
"..The second part, on YouTube, if I remember well, it has about 10-minute long of behind-the-scenes. Really. The second part is about 20-minute long on YouTube. On air it will be slightly shorter, of course..", "But on YouTube we left you everything", "I hope you'll like it, insha'allah, and I want (to feel) more excitement from you. Participate on YouTube.."
"This time, for the winners, well, when I met TVXQ, the album hasn't been released yet (at then), so there were not available (album) copies for them to sign on, so they signed on the album's poster. Therefore, this time we changed: instead of participating in the hashtag #SabahAlarabiya, we will choose randomly from the YouTube comments. On both videos, a random comment will be chosen from the first part (interview video), and the same (will be done) for the YouTube (video) of the second part. and we will announce (the winners) within the week on Sabah Alarabiya's **(twitter?), not on air. So those participating will get (to win) a poster signed by Changmin and Yunho."
"Really, their excitement during the interview… they were so excited..",
".. honestly, I really think everyone needs to attend, everyone needs to enjoy (the concert) because they were so excited…"
".. I wasn't nervous.. actually, they were really fun. But you know, it's different between one artist and another..", "well, Dong Bang Shin Ki have charisma, you know", "the way they carry themselves and their conversations are really different (i.e. special)"
"and for those who didn't get why I sometimes laughed in response when Yunho talked, and so on..", "basically, we, of course, would tell them the questions (in KR) first, so that they know the question, then for the sake of the recording, I would need to repeat the question in Arabic. So I would record my question in Arabic, then he would need to answer. That's the technique", "because for the broadcast, we take the Arabic recording, as it is an Arabic interview", "(However,) when he (Yunho) heard the question (in KR), he would answer right away", "he was so excited, more than once: as soon as he heard the question (in KR), he wanted to answer at once! I died laughing!"
---
Twitter: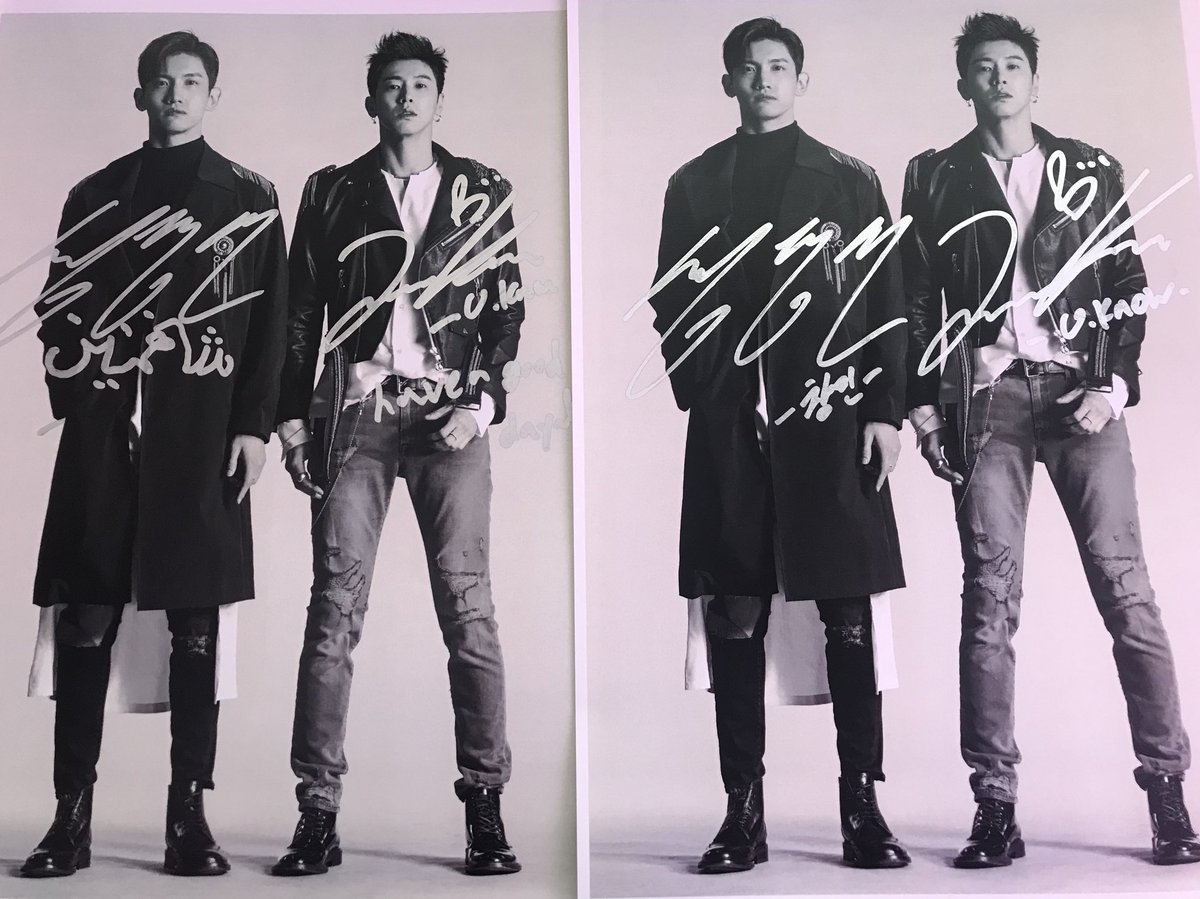 Translation:
Participate in the comments under both first and second parts of group #TVXQ's interview on Alarabiya YouTube, to win a signed card from both group members  https://www.youtube.com/watch?v=yRvBM2okNwg
TVXQ's comment on the left card:
Changmin:
شانغمين
("Changmin" in Arabic)
{t/n: it seems like they taught him to write it in Arabic as "SHAngmin", not "تشانغمين (CHAngmin)", but I don't know Korean so I don't know which (sha or cha) is the closest to how his name should sound. Side note: he probably tried to imitate his name from the board they gave him, it looks nice~}
Yunho:
have a good day~
———————–
Credits:
ashwaq.alatoli on snapchat and @SabahAlarabiya,
AR-EN Translation by @smilessi (All translation mistakes are mine),
Post Written and Shared by TVXQ! Express