10th on Oricon overall… Reconfirming K-pop's status
With the achievement of their significant results in Japan in 2015, TVXQ (known in Japan as Tohoshinki 東方神起), have reconfirmed their position as the top kpop singers there. The recent various year-end computed material and indicators have substantiated this.
From Japan's Oricon's overall yearly record sales for 2015 (singles-albums-musicDVDs-blu-ray added), TVXQ recorded 2.89 billion yen (about 28 billion won) (in sales). They occupied 10th place following Arashi who was 1st with 14.33 billion yen (138.4 billion won) and others. However, they were the highest placed for Korean singers.
On Japan's renowned music site, mu-mo's 2015 year-end chart as well, they swept the top 10. In the yearly ranking of the "singles" department; "Spinning", "Chandelier", "Sakuramichi" each occupied the 1st-3rd places; in the album department as well, "Sakuramichi", "WITH" were 1st and 3rd placed, respectively.
On Japanese ticket reservation site, "Live", for this year, based on concerts which had mobilised 10,000 people and over, actual ticket sales; number of concerts, number of concert-goers etc and various statistics; in an independently-computed "Hot Live Ranking" following Arashi, Mr Children and others, at 4th place, was TVXQ. In this department, at 10th and 11th were Big Bang and ECO respectively.
Also, in music site, : "CD&DL Data" based on a nation-wide survey of 11,317 men and women in their 10s-60s, on "This Year's Most Memorable Music", TVXQ's "Sakuramichi" placed 17th. They were the sole Korean singers in the top 20. Additionally, Choikang Changmin who was selected to become cosmetic brand "24h"'s model, on air from February next year, shows their unchanging popularity, despite being on hiatus due to military service.
---
Information from Oricon on 151223:
ORICON 2015 Yearly Music Ranking Artist Total Sales – 10th 東方神起 with ¥28.9bil* (613k copies) {p/n: should be 2.89 billion Yen}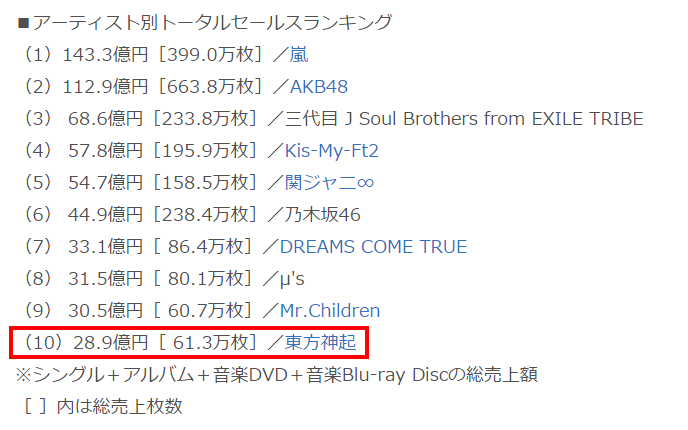 —————————–
Credits:
Korean News by dongA via naver, Translated by @snxy,
Oricon via @kmax0218, in English via @joeylfy,
Posted and Shared by TVXQ! Express