Magazine CREA Official twitter shared another behind-the-scenes story from Tohoshinki's feature in their January Issue~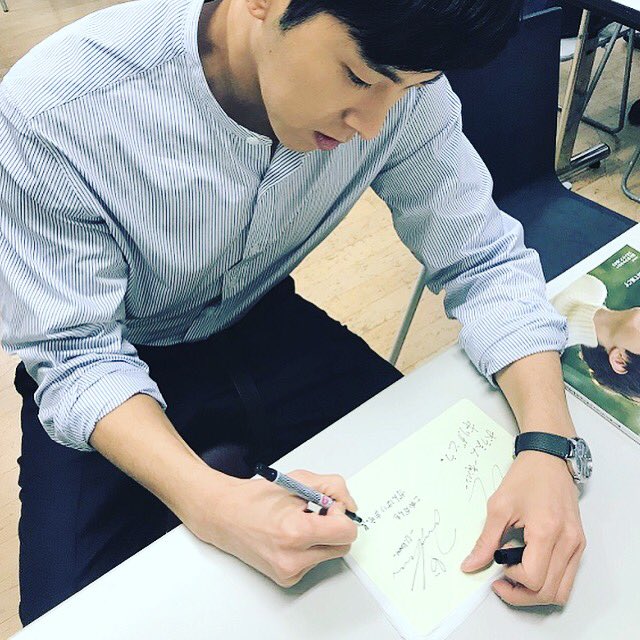 Also posted on their instagram (crea_magazine): here.
Translation:
CREA behind the scene episode 3.
A day before yesterday, Tohoshinki celebrated their 14 years anniversary since their debut. Recently, everyone is talking about how perfect they are in harmony during live MC and they are just like a married couple comedy show. And that is very true for them during interview! When Yunho-san told us about the episode on his first date when he was the freshman in high school. After Yunho-san gave his girlfriend a suprise present and they got on a sightseeing boat.. the editor misunderstood that he rent a boat all for them. "Wait!? You were only high school freshman!?" looked totally stunned. Then immediately Changmin-san said, "No no, he did not do that. If he really did so, then he is already married by now! (laugh)" Yunho-sand said, "I am not a scion of family-run conglomerates!" They responded to quickly and everyone bursted into laughter.
This is the picture of Yunho-san who was writing a message to our readers (a present for our readers in January issue). I was impressed that he took time and wrote carefully as if he wanted to convey his feelings to our readers. The entry for a lottery to get polaroid picture and his message card is 1/5. Please do not forget to entry.
---
Tohoshinki for Japanese magazine 「CREA」- January Issue 2018 (released 171207) can be ordered from Amazon Japan: here (available on Kindle as well).
———————–
Credits:
@crea_web: 1, 2, 3 and 4,
Translation by @beriko0214: here and here,
Posted and Shared by TVXQ! Express