One of the representative K-pop idol groups, TVXQ's U-Know Yunho (31 Jung Yunho) will be returning to society this month. U-Know Yunho will have finished his active duty and be discharged on the 20th. Prior to this, he had enlisted into Yangju City's 26th Mechanised Infantry Division's army band as an active-duty soldier to serve his military duties. Last May, U-Know Yunho had achieved above 90 marks in all subjects consisting of marksmanship, fitness, psychological aptitude, combatmanship, which is required in order to attain the honour of becoming a Special Class Soldier.
After U-Know completes his 21 months of active military duties, upon his discharge on the 20th, he will be able to resume his music activities in front of fans. From his K-pop debut in 2004 as a member of TVXQ, U-Know Yunho's strong charisma has led to his huge popularity both domestically and internationally. This is the reason that fans are looking forward to U-Know Yunho's completion and discharge from active military duties. Separately, Choikang Changmin, who makes up TVXQ together with U-Know Yunho is currently serving as a conscripted police constable at the Seoul Metropolitan Police Agency, and will complete his military duties this August.
---
News trending on Naver main~
[cr: via @0206yhken]
and Korean twitter~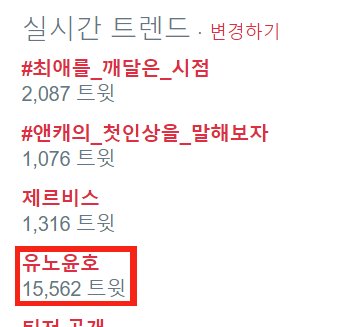 [cr: via @ryuda_t]
---
Translations of some comments under the article:
A parent of a Bulmurishinki member commented on Yunho's article saying they look forward to his comeback after discharge~!
[cr: via @2618yhcm]
I was in the same training camp at the same time, as U-Know Yunho hyung. Really, it's the first time I've met such a celebrity. A celebrity an very attentive to the officers, he could have spared himself a bit and done his service comfortably but he would come out himself to do even unpleasant work! and would take care of the dongsaengs (as most army boys are much younger) really well, and rallied them together, undergoing dangerous training, lessons, grenade training, marches, in everything he was at the lead, using himself as an example.. really.. outstanding and even outside, after deployment (to each other's divisions) I felt that he would clearly still work as hard as he did at training camp. Everytime I hear the occasional bit of news (about Yunho), in the army, there is not one soldier that has said something bad,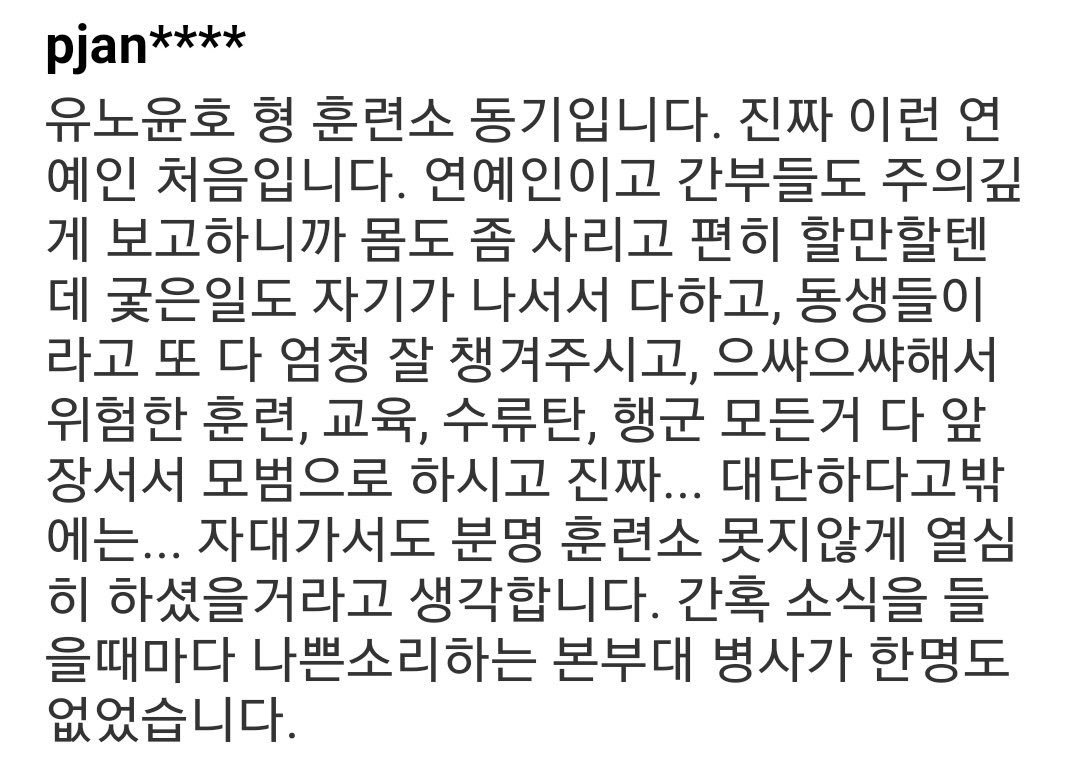 [cr: via @snxy]
---
Dispatch's tweets:
"Ca-ahdeul (Cassiopeia) make some noise!!" (article content similar to what was posted earlier) [cr: @dispatchsns] {t/n: Yunho is known for shouting "raise ur voices" at TVXQ events. Dispatch just did the same for an article on his discharge [cr: via @iruka0206]}
Dispatchㅋ "please be discharged quickly! I'm feeling dizzy ㅠㅠㅠ  [cr: @dispatchsns]
—————————
Credits:
스타뉴스 StarNews via naver,
Translations by @snxy: 1, 2, 3, 4, 5 and 6,
Shared by TVXQ! Express